Tiger Woods
Can the "Tiger" ever eclipse the "Golden Bear"?
By Gary P. Caton

This is my popular article which originally appeared in Feb/Mar 2004 NCGR Memberletter.
-followed by reflections and updates on Tiger's progress

I must confess to being somewhat amused by a recent spate of articles in The Washington Post vilifying professional golf's recent Adonis, Tiger Woods. More importantly, I realized that Astrology might have some valuable insights to offer that might counter the instant-gratification, "what have you done for me lately" attitude that so often makes a soap opera of the lives of the rich and famous. While my Virgo Moon does find the exorbitant salaries and corporate driven sports machine detestable, my Aries Sun is a hopeless sports junkie. So to make the best of it I have resolved to try to bring my Aquarius Ascendant to bear on the situation and try to form a more objective, humanistic view of the situation that might illustrate the benefits of an Astrological awareness.
While it is clear that Tiger is no longer at the very top of his game, I am not so sure that I can label a four-win, second on the money list season a "slump" as some in the media have so vehemently insisted.[i] However, I must admit that Tiger's childish tantrums do not serve him or the sport he has so recently helped catapult into the spotlight. Sally Jenkins' most apt observation, however, was the comparison with golf's legendary "Golden Bear", Jack Nicklaus.[ii] Jenkins observed that Nicklaus endured a winless streak in his early career at major championships twice the length as that which Tiger has now experienced, and achieved a much more respectable demeanor throughout.[iii] Jenkins ends her article by contradicting her insistence on the s-l-u-m-p, and noting "A single year without a major is hardly a failure. It's not a full-blown crisis. It simply is what it is. It's time to grow up."[iv] If some of you are still not sure what symbol must be operating for Woods to receive such harsh, if somewhat apt, criticism, I will spell it out for you. S-A-T-U-R-N.
This prompted me to apply a most basic, yet profound, technique to these two men's charts. Grant Lewi elucidated a technique which correlates life's inevitable ups and downs to Saturn's passage through the quadrants.[v] If Tiger is truly going through a slump, we could expect Saturn to be transiting the "obscure" sector of 1st-3rd houses. This is simply not the case. Saturn is transiting Woods' tenth house, showing him to be past a high water mark (mid-heaven) but still very much at the top of his game. The problem is that Saturn is forming a rather troublesome Grand Cross with the Sun in the 4th, Pluto in the 1st, and Jupiter in the 7th (after leaving an opposition with the moon in the 3rd –knee surgery). This completion of his natal T-square, while certainly implying a crisis of maturity for this Capricorn, is more importantly asking for Tiger to evolve.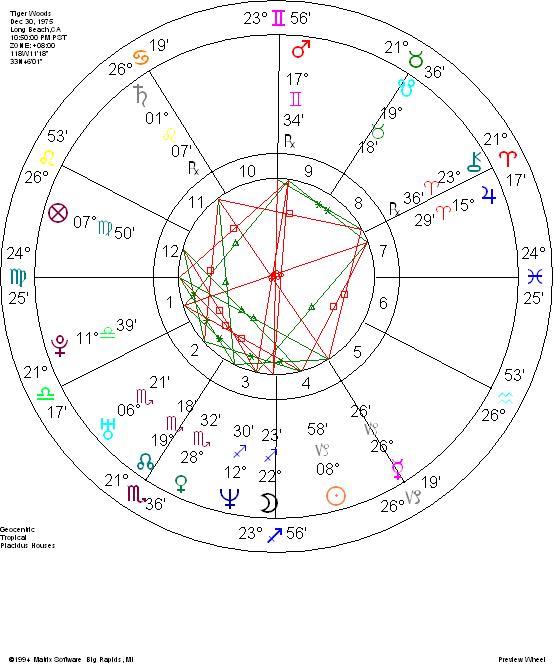 This transiting formation is fascinating because it represents a crossroads where Tiger must learn to adapt if he will ever chase down golf's all-time major winner, Nicklaus, who had a natal grand cross![vi] Nicklaus' mark of 18 major wins now seems perhaps less than inevitable for the young prodigy, whose 8 wins at such an early age (he's not yet 28) have made him seem, until recently, untouchable to his competitors. While Tiger's Saturn is not in the sector for slumps (according to Lewi), he appears to have the makings of a serious slump in his coming Saturn return (Nicklaus' early slump occurred while Saturn transited its natal place -the 2nd sector 4th-6th houses).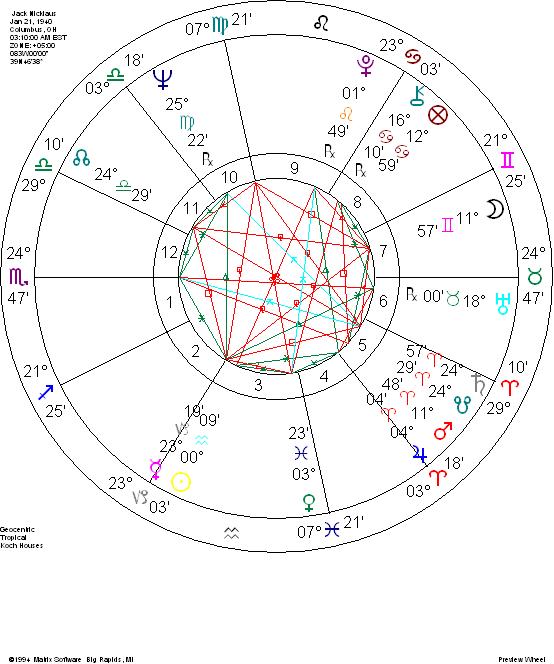 Tiger had better learn to accept some limitations and slow down a bit during this Grand-Cross transit and his coming Saturn return. If not, the resulting stress (Saturn-Pluto) and/or recklessness (Mars elevated) might tragically end or shorten a career that has all the makings of a legend. The temporary limiting of his long-game (Jupiter in Aries in 7th) and ability to impose his will (Sun-Pluto) will fade by next years PGA tournament when Saturn moves into the 20's Cancer (August 2004). Perhaps he will bounce back then. He has a progressed New Moon in July and Jupiter conjuncts his Ascendant in late August. Tiger's breakthrough year was 2000 when he won 3 majors (U.S. Open, British Open, & PGA Championship). During this time he was experiencing a Pluto transit conjunct natal Neptune. He will experience Pluto's conjunction to his Moon during his Saturn return in 2005, perhaps revitalizing his natural abilities. He also has some important progressions coming up. Both Mercury and Pluto form progressed returns in 2004 (both having turned retrograde by progression at age 15). Mars' progressed direct station at 21 was when he turned pro.
In order to bounce back, I believe Tiger will have to honor that 1st house Pluto and transform. The recent Saturn transit to his Moon has obviously disrupted the unconscious instincts for the game that were instilled in him at a very early age (Moon conjunct Nadir). So much of sports is being able to train the body to respond on an inner, instictual level (Moon) that undercuts the stress of being placed in the spotlight. I am reminded of a recent prime time television interview where Brett Favre, arguably Woods' parallel in the NFL, admitted to being in a state of "blackout" from substance abuse during some of his prime years. Clearly Favre's Moon was operating at a very high level, keeping him on some form of auto-pilot. Yet like any other, this state could not be maintained, and he has had to struggle through the issues of substance abuse and the changes that come with them. Tiger's challenge is similar. He must bring up into consciousness that which for so long he may have taken for granted. The "killer instinct" and the incredible driving distances that have made him famous must be perfected and held in reserve for they will not be omnipresent as they were before his Saturn return. Like the rest of us, he will have to learn to pick his battles and deal with an aging body that does not always respond to our bidding. If he can do this, the chances are good that, when the opening Uranus-Pluto squares conjunct his Jupiter and Sun in about twelve years, he will become the all-time leader in golf's major championships.
A closer analysis of Nicklaus' chart in terms of Lewi's theories[vii] reveals a pattern that may suggest that Tiger's ability to weather the current possible slump could also determine his ability to eclipse the "Golden Bear". Nicklaus' 18 major championships spanned a remarkable period of 24 years –two Jupiter cycles. The pattern that stands out among these accomplishments is not the inability of Nicklaus to make major wins with Saturn or Jupiter transiting the 1st sector, but the 4th. Admittedly this has something to do with the 4th sector transit of Saturn occurring at the end of his career, but he did win his last major (1986 Masters) only after Saturn cleared the Ascendant and 4th sector. Similarly only 2 majors came during the Jupiter transits of the 4th sector. More in line with Lewi's assertions[viii], Nicklaus' most majors did occur during Jupiter and Saturn transits to the 3rd sector.
This pattern appears to have implications for Woods. His high water mark of 2000 was during a Jupiter and Saturn transit to the 3rd sector. Now that Jupiter (2001) and Saturn (2002) have both passed the Mid-heaven, Woods has both planets in the apparently unproductive 4th sector (where his Saturn resides) and is in the midst of what some are increasingly calling a slump. The bad news for Tiger is that because he was born at a more southerly latitude and with a Scorpio ascendant he does not have the "shortening" of this sector characteristic to Nicklaus' chart (and subsequent elongation of the crucial 3rd). Saturn will not clear Tiger's Ascendant until 2009. Jupiter will not reach the crucial 3rd sector until 2010 when progressed Mercury makes the direct station. Other than the previously mentioned progressed returns and Pluto transits of 2004-2005, there is not much help during this period. 2006-2009 appear mostly barren and at best a mixed bag of major transits/progressions. Tiger's career may well be on the line. It appears that if Tiger is to avoid a very serious slump during the prime of his career he had better make the best of next years PGA and the 2005 major tournaments.
To do this during a Saturn return will be difficult. It will require Woods to accept and play within certain limitations. The best thing for him to do would be to pay Saturn's toll now and learn to rely on discipline and caution rather than raw talent. Additionally, the exploration and elimination of any emotional blockages (Pluto-Moon) will be necessary. The best thing that could happen to him would be to fall in love and get married. This is often a major part of fulfilling the Saturn return, and would certainly go a long way towards stabilizing his emotions -which seem to currently have the better of him. If he can make it through 2009 with at least 3 more majors (for a total of 11) he will be poised to make a final assault during the crucial Jupiter in 3rd/Saturn in 1st sector period. But more importantly, he will have undergone the personal growth necessary for these accomplishments that, in the end, will be more rewarding.
---

Page last modified on 07-Jan-2015


Back to top
---