British Invasion
The British Invasion:
An Armada of "Skipping Stones" from across "The Pond"

-On the prevalence of "bucket" chart patterns in the British Invasion

by Gary P. Caton
In post JFK America, an existential vacuum existed as the people grieved the loss of a vibrant and beloved leader. Beatle-mania arrived to fill the void. It all started on February 9, 1964 at with Uranus and Pluto rising in the Eastern sky and Jupiter and Venus gracing the Western horizon. Half a Uranus cycle hence, we can still feel the reverberations of this cultural explosion (notice the "finger of God" or Yod formed by Jupiter in Quincunx to the generation spanning Neptune/Pluto sextile). Ed Sullivan's hosting of the Fab Four launched not only the most successful pop band in history, but opened a door for British musicians which would eventually become a floodgate (notice Venus in the last degree of Pisces) and culminate with the emergence of what many regard as the two greatest guitar virtuosos of all-time (notice the Sun/Mars/Saturn stellium in Aquarius). The chart for this event shows the generation defining Uranus/Pluto conjunction as the only planet(s) occupying one-half the Zodiac (mid Aries-Libra), and therefore I feel this qualifies it as a "bucket" pattern.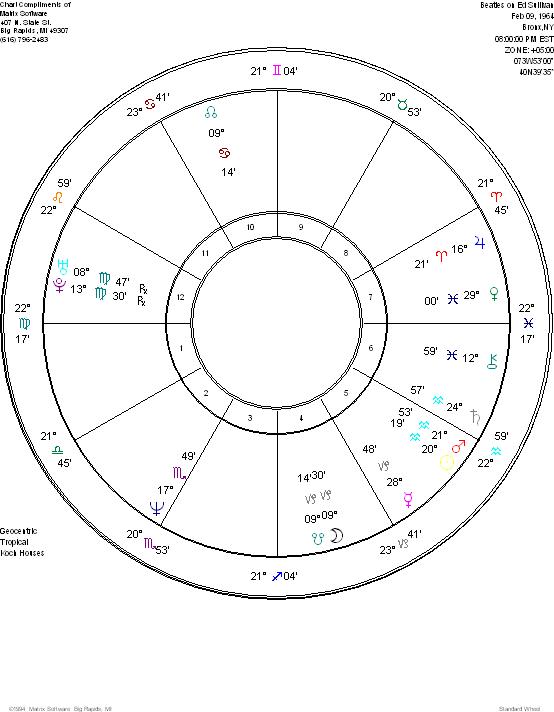 When the Beatles made their first appearance on the Ed Sullivan Show, it was and remains one of the most important events in history - not just the history of Rock & Roll -but history -period. On this night, 73 million people watched The Beatles perform! Most activities in America came to a standstill. Getting a taxi or a bus in New York was almost impossible. Criminal activity in most major cities was put on hold. Mass hysteria soon resulted wherever the Beatles appeared -and Beatle-Mania was created.
"The World used us as an excuse to go crazy -and then blamed it on us" -George Harrison
This bucket pattern would be echoed by Saturn in Aries (the only planet in late Scorpio-Taurus) in the Mundane charts for the legendary performance of Jimi Hendrix at the Monterey Pop Festival and the arrival of Led Zeppelin in America,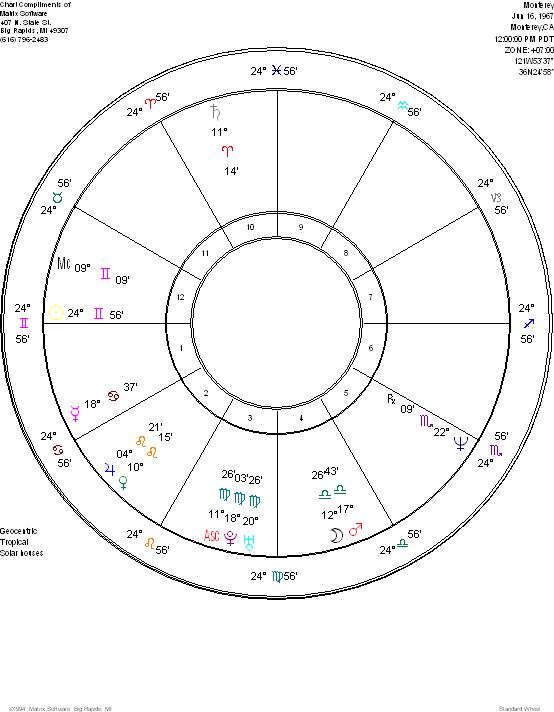 The Monterey International Pop Music Festival took place from June 16-18, 1967. Over 200,000 people attended and it is often regarded as the precursor to Woodstock. It is generally regarded, along with the release of Sgt Peppers, as the apex of "The Summer of Love."
The festival became legendary for the first major American appearances by Jimi Hendrix and The Who. Apparently their was some controversy over who would take the stage last. The Who smashed up their equipment in a frenzy -and not to be outdone -Hendrix symbolically made love to his guitar, then smashed it -and set ot on fire! Monterey was also the forst major public performance For Janis Joplin and Otis Redding (Redding would die only a few months later). Saturn in Aries heralded a new Mastery of musical forms by the Pluto in Leo generation.
Saturn in Taurus (only planet in mid Sag-Gemini) highlighted this new Mastery even further during Woodstock.
The Woodstock Music and Arts Festival was held at Max Yasgur's 600 acre dairy farm in rural Bethel, NY from Aug 15-18, 1969. For many, it exemplified the counterculture of the 60's and the "hippie" era -over 500,000 attended. The festival has proven to be unique and legendary. Among the stars were The Who and Jimi Hendrix.
During The Who's performance of "SeeMe, Feel Me," the Sun rose just as Roger Daltrey began to sing the chorus! At the conclusion of the set, Pete Townshend slammed his guitar onto the stage and threw it into the crowd. This moment helped establish the band as superstars and boosted their album Tommy to multi-platinum sales.
Jimi Hendrix had a big impact with his performance of an alternative version of "The Star Spangled Banner." This was controversial, as the Viet Nam War protests were heightening and the sound effects Hendrix generated with his guitar echoed the violence of the conflict. These performances are held by fans as some of the greatest in Rock history.

Perhaps more important and remarkable is the fact that this chart pattern is also prevalent in the horoscopes of many of the individuals whose crossing of the Atlantic made such an impact. John Lennon, Brian Jones, Jimi Hendrix, and Jimmy Page are but a few examples of this curious phenomenon. It seems that the "bowl" of planets occupying half the chart was transformed past a mere "bucket" by these individuals. The singleton planet seems to act instead as the sail of a ship, carrying them to fame and fortune in a foreign land.
As the formative leader of the Beatles, John Lennon was the "new Columbus" of the British Invasion, and his is the easiest wheel to visualize this new metaphor for the chart pattern. The "bowl" or hull of the ship is roughly coincident with the horizon line, defined by the opposition of Jupiter/Saturn with Mercury from the first to the seventh. Besides the handle or "sail," only Mercury rises above the horizon, suggesting this ship has a message to carry. The angular opposition to Jupiter/Saturn suggests this will be a socio-political message. The ship's mast can be seen to be formed by the Moon/Pluto opposition in t-square to Mercury – further defining this ship's socio-political messenger/captain as a catalyst who initiates transformative change. The mast is anchored by Pluto, but what flag is that flying atop this ship? Why the Moon in Aquarius points it out as the American flag of course!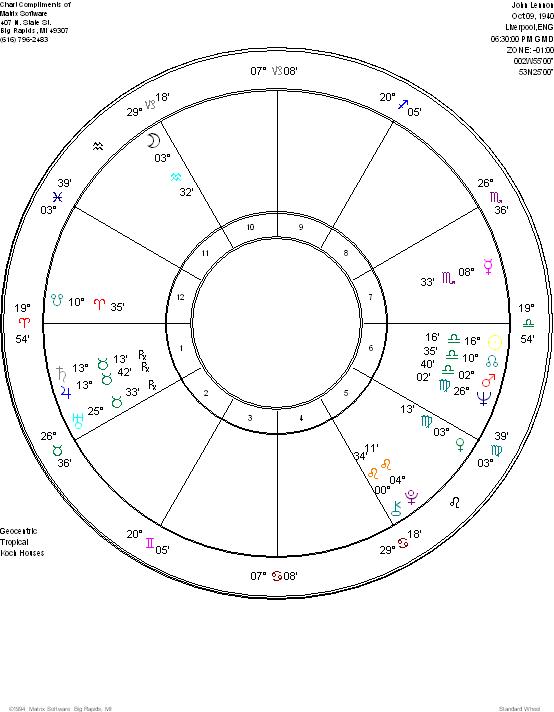 Despite the investigation by the FBI and Nixon's attempt to deport him, Lennon stood for basic American ideals espoused by the founding fathers -including liberty, equality, and freedom of speech. The truth of the matter is that Lennon planned on touring and promoting peace at a time when 18 year olds were just given the vote and posed a serious political threat to re-election for Nixon. Conspiracy theorists still believe that Lennon's assassin was brain-washed by the CIA and he was killed for the same reasons as JFK, RFK, and MLK –speaking out against a corrupt government. In any event, exercising freedom of speech in opposition to tyranny -it just doesn't get any more American than that.
In fact, the lyrics he wrote under the last Saturn-Neptune oppositions (early 70's) seem just as appropriate -if not more so -under the current Saturn-Neptune oppositions (2006-7).
Gimme Some Truth
Im sick and tired of hearing things -From uptight, short-sighted, narrow-minded hypocritics
All I want is the truth -Just gimme some truth
Ive had enough of reading things -By neurotic, psychotic, pig-headed politicians
All I want is the truth -Just gimme some truth

No short-haired, yellow-bellied, son of tricky dicky Is gonna mother hubbard soft soap me
With just a pocketful of hope -Money for dope -Money for rope

Im sick to death of seeing things From tight-lipped, condescending, mamas little chauvinists
All I want is the truth -Just gimme some truth now

Ive had enough of watching scenes Of schizophrenic, ego-centric, paranoiac, prima-donnas
All I want is the truth now -Just gimme some truth
Working Class Hero

As soon as you're born they make you feel small -By giving you no time instead of it all
Till the pain is so big you feel nothing at all
A working class hero is something to be....
They hurt you at home and they hit you at school-They hate you if you're clever and they despise a fool
Till you're so (friggin) crazy you can't follow their rules
A working class hero is something to be...
When they've tortured and scared you for twenty odd years -Then they expect you to pick a career
When you can't really function you're so full of fear
A working class hero is something to be...
Keep you doped with religion and sex and TV -And you think you're so clever and class less and free
But you're still (only) peasants as far as I can see
A working class hero is something to be...
There's room at the top they are telling you still -But first you must learn how to smile as you kill
If you want to be like the folks on the hill
A working class hero is something to be...

If you want to be a hero well just follow me.

While the founding member of The Rolling Stones, Brian Jones, shared with Lennon an outspoken dislike of socially imposed constraints (illustrated by his Venus and Mercury in Aquarius on the "bow" of his "ship") it was not for this that he is most well known. His "special capacity or gift" and the "consequent nozzle-like focus or release of energy" is indicated by Neptune in Virgo. Contrary to the other member of the Invasion with this focal planet (Graham Nash –who was also an accomplished photographer –ruled by Neptune) Jones' gift was definitely not for song-writing. Instead he was the consummate virtuoso musician, the first on the Brit scene to play slide guitar, and contributed to the Stones with no less than 15 different musical instruments! Another manifestation of Jones' Neptune was his status as a fashion icon. Coincidentally, Jones can be seen on the cover of the 1968 single "Jumpin' Jack Flash" holding a trident! (as well as a wine glass –symbolic of his unfortunate Neptunian substance abuse problem) Finally, Jones was insistent on remaining a purist (Virgo) to the band's blues roots. It is tragic (Neptune) that about the time of his forced departure (and subsequent death) that the band was indeed moving in this direction.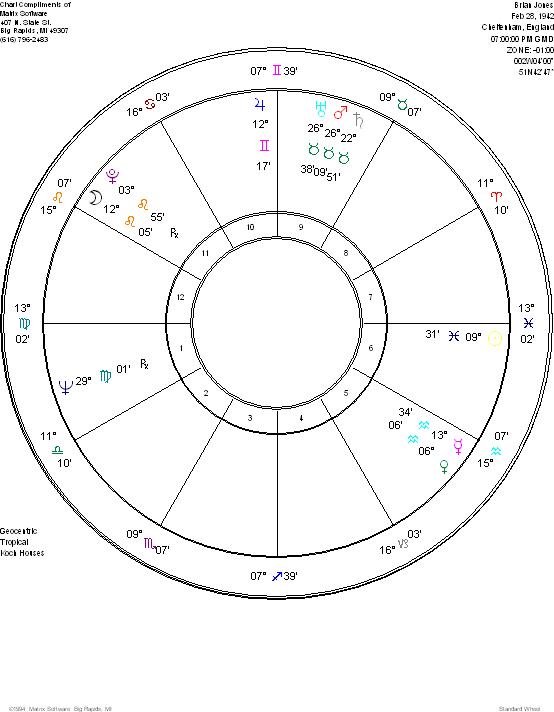 As in the chart for the Invasion itself (Beatles on Ed Sullivan) I feel that a conjunction as the handle of the bucket or sail of the ship does not disqualify –but rather reinforces the pattern-making it even more significant. Jimmy Page has the very tight promethean inferior conjunction of Sun/Mercury as the only resident of half of the chart defined by his Mars/Uranus opposition to Venus (Sullivan defines the inferior conjunction as the beginning of the promethean phase of Mercury). It is interesting that Page expressed a promethean curiosity for taboo subjects –including the occult. Page carried the promethean archetype through Capricorn, and expressed this fiery cardinal energy by leading and helping found and popularize an entire new genre of popular music –Heavy Metal. Jimmy's status as one of the greatest guitarists of all time can be seen by the inferior conjunction's closing quincunx to Saturn (mastery) in the 8th.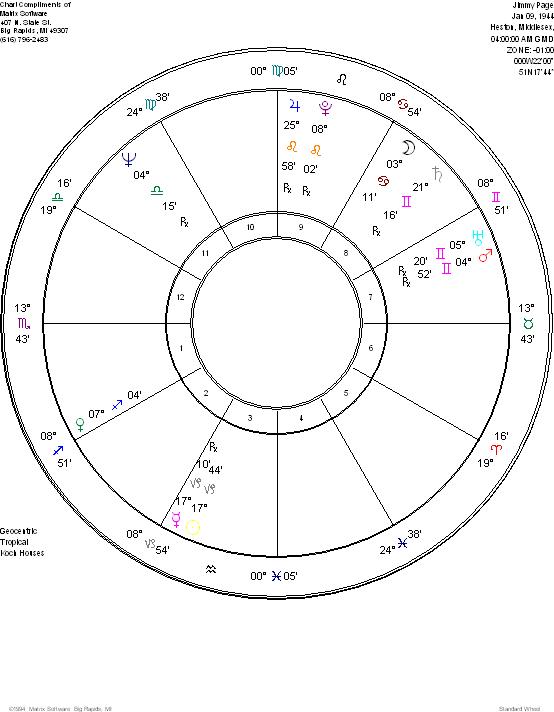 A final example of the "bucket as ship" model of British Invasion artists includes another instance of the conjunction as handle or sail. Jones notes "the planets grouped opposite the handle may approximate the bundle rather than the bowl pattern." Jones defines the bundle as the grouping of all planets within a trine. Jimi Hendrix has all the planets except two (Saturn/Uranus) in an approximate trine. There are 132 degrees between them; however I see the Moon as within conjunction to Pluto and Jupiter is definitely within conjunction to the Moon –tying Moon and Jupiter into Pluto's trine with Venus. Therefore, I feel this grouping definitely "approximates" the bundle pattern, and that Hendrix' chart can then be a read as a bucket –particularly because the planets I am identifying as the handle are entirely within another hemisphere from the rest of the chart –acting as a pseudo "singleton".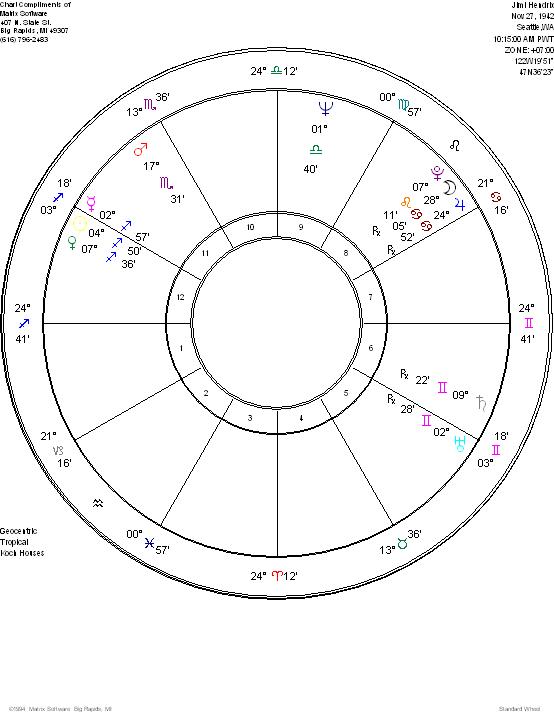 Doubtless, the "special capacity or gift" and the "consequent nozzle-like focus or release of energy" which Jones described as peculiar to the bucket pattern can be seen. Jimi Hendrix has been described by those who saw his live performances as looking like a wire with too much electricity passing through it. He was definitely the most incredible thing anyone had seen when he emerged at Monterey –playing his guitar behind his back, between his legs, behind his head and even with his teeth! He remains arguably the greatest guitarist of all time due to his fusion of rhythm and lead guitar styles –symbolized by his Saturn/Uranus "singleton" conjunction. Hendrix took his playing beyond mastery (Saturn = "the master of the Stratocaster") to evoke haunting, shocking and even disturbing electrified sounds (Uranus) like nothing ever heard before –and with only the simplest of equipment. Also, one of the traits Hendrix gets the least credit for is his fusing of his musicianship with singer/songwriter abilities. This was late to develop (if at all) in many of the guitarists Hendrix is compared with (ie. Clapton, Beck, Page).

In Voodoo Chile -he names the two planets that make up the "bowl" part of his bucket chart!
Well, the night I was born -Lord I swear the moon turned a fire red
Well my poor mother cried out lord, the gypsy was right!
And I seen her fell down right dead (have mercy)

Well, mountain lions found me there waitin -And set me on a eagles back
He took me past to the outskirts of infinity, And when he brought me back,
He gave me a Venus witchs ring -And he said fly on, fly on
Because Im a voodoo chile, baby, voodoo chile
Well my arrows are made of desire From far away as Jupiters sulphur mines
Im a million miles away -And at the same time Im right here in your picture frame...
It is interesting to note that Scientists found Sulphur in the material spewed forth when a comet crashed into Jupiter! Maybe Mr. Jimi was there....

In Room Full of Mirrors, Jimi seems to be talking about the liberating experience of mind expanding drugs
I used to live in a room full of mirrors
All I could see was me...

A broken glass was solvin my brain
Cut and screamin crowdin in my head
A broken glass was loud in my brain
It used to fall on my dreams and cut me in my bed
It used to fall on my dreams and cut me in my bed
I say making love was strange in my bed
Then I take my spirit and I smash my mirrors
And now the whole world is here for me to see....

It is interesting to note that, while American born, Hendrix recruited his backing band and made his initial stir in London. Relocating his chart there retains the "singleton" conjunction but moves it from the shy subjective Northern Hemisphere to the objective extroverted Southern Hemisphere. Notoriusly non-materialistic, Hendrix died broke -his bucket being turned upside down. Yet, in London he was able to fill his ship with the band-mates who could match his intensity and launch his successful career. Another example of the fusion of Saturn/Uranus for Hendrix was the drumming of Mitch Mitchell. Mitchell was picked for his ability to perform a "lead" style of playing, fusing jazz and rock sounds and creating a flowing interplay with Hendrix's guitar.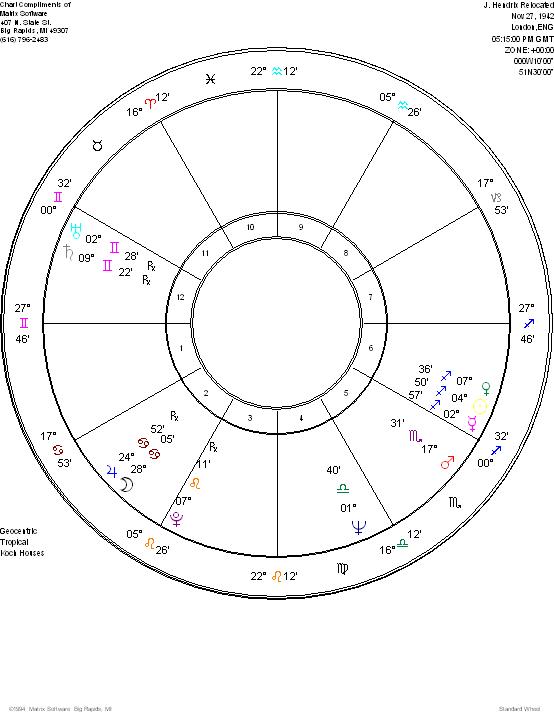 And now the Whole World is here for me to See...

It is interesting to note that the chart of the Country to which all these musicians flocked is also essentially a bucket chart -with two "handles" or focal points to channel the planets between the Saturn/Uranus trine -but which path she will take remains unclear...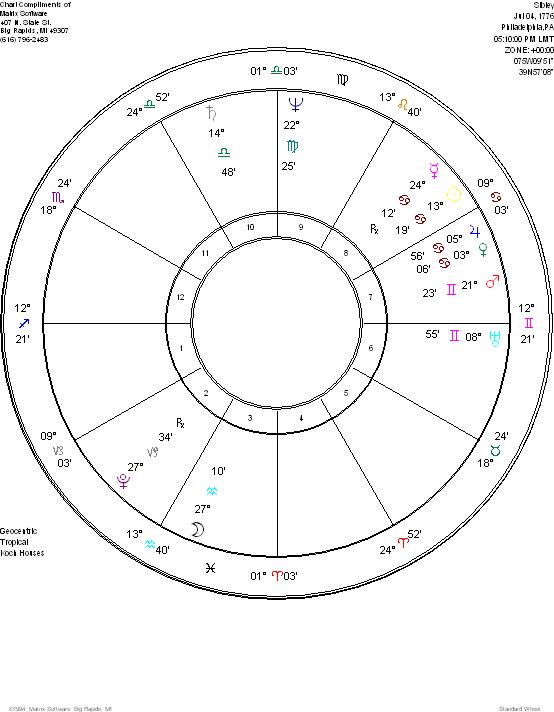 There's a lady who's sure all that glitters is gold...
-And she's buying a stairway to heaven... (Pluto in Capricorn in 2nd =Big Business/Corporations/Corrupt Govt)
Dear lady can't you hear the wind blow and did you know?
-Your stairway lies on the whispering wind! (Moon in Aquarius in 3rd =The People -informed & "enlightened")
Yes there are two paths you can go by,
but in the long run -There's still time to change the road you're on ....
The remarkable preponderance of this chart pattern in both the mundane and individual charts of an influential cultural movement certainly deserves more attention. This writer presented on this subject at the Research Symposium at the NCGR conference in Baltimore.
Analysis of groups of individuals of other influential cultural movements would seem to be important if Astrologers hope to truly understand the Sociology behind the often termed "generational" influences of the outer planets. For instance, it is interesting to note that both the San Francisco and Seattle musical sounds evolved during periods with all three outer planets in feminine earth/water signs. But without the International infusion of the San Francisco sound era under the Uranus/Pluto conjunctions, the Grunge Rock explosion in Seattle under the Uranus/Neptune conjunctions was more transitory and made less of a lasting impact. Is this because the 1993 conjunctions were in opening sextile (Gemini) to the third outer planet rather than the closing sextile (Aquarius) of 1965? Analysis of groups of individuals of other influential cultural movements would seem to hold the answers. In particular, since cultural movements are often inspired by and/or extend previous movements, a comparison of these "generational" themes and the quality of their interaction might do much to dispel the sometimes naïve, under-informed "cookbook" dismissal of outer planets in nativities.
References:
Jones, M.E. The Guide to Horoscope Interpretation. 1941. Quest Books.
Rudhyar, Dane Person Centered Astrology. 1976. Aurora Press: NY
Sullivan, Erin. Retrograde Planets, 2nd edition, York Beach, ME: Samuel Weiser Inc., 2000, p.58-59
Chart Data from Astrodatabank.
Other notable British Invasion artists with "bucket" charts transformed to Ships include:

Steve Winwood (5-12-48 -Jupiter in Sagittarius), Graham Nash (2-2-42 -Neptune in Virgo), Eric Burdon (5-11-41 -Mars in Aquarius), Gary Brooker (5-29-45 -Moon in Capricorn), Colin Blunstone (6-24-45 -Moon in Sagittarius), Cat Stevens (7-21-48 -Moon in Aquarius), David Bowie ( 1-8-47 –Uranus in Gemini), Paul Rodgers (12-17-49 -Uranus in Cancer) & Robert Plant (8-20-48 -Moon in Pisces).
---

Page last modified on 13-Dec-2007


Back to top
---